Workers Compensation Refunds Directly Linked to Winning Bids for Contractors and Suppliers of Building Projects, Concludes Apex Services
Workers compensation premium recovery reduces employers' experience modification factor and obtains workers compensation refunds while helping contractors win bids in the process.
Cedarhurst, NY – July 21, 2014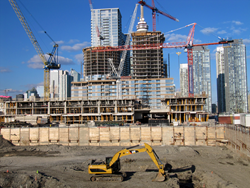 Apex Services (http://www.apexservices.com/) is proud to announce that having successfully obtained workers compensation refunds for their clients in the construction industry has directly led to their clients' success in winning bids on projects by having lower experience modification factors. Apex Services concluded that by reducing the clients experience mods in a short period of time, not only did their clients receive workers compensation refunds on prior years' policies, but their bottom line was drastically helped by allowing them to win bids they submitted on construction-related projects.
Workers compensation insurance is the second largest expense after payroll for companies in blue-collar industries. The single most important factor in determining an employer's workers compensation premium is the experience modification factor (also known as the mod, e-mod, ex-mod, or EMR). The experience modification factor is doubly important for employers in construction-related industries because it is used to prequalify contractors for worksite eligibility. Rising experience modification factors have hindered many employers' ability to land new contracts and have had significantly adverse effects on their bottom line.
To learn more about workers compensation refunds, please visit: http://www.apexservices.com/.
Workers compensation premium recovery is a service that helps employers obtain workers compensation refunds on current and prior policies. Although this service would benefit any employer by recovering past workers compensation overcharges, it is especially helpful for those in construction-related industries. That is because on top of receiving workers compensation refunds on prior policies, workers compensation premium recovery optimizes the current and even future experience mods.
"Workers compensation premium recovery should be a top priority for any smart employer who bids on projects. Forget about the fact that employers receive workers compensation refunds on premiums they paid in the past, the reduction and optimization of a company's experience mods can have long-lasting effects on future earnings." explained Simon Feuer, President of Apex Services, which is a workers compensation premium recovery firm based in New York.
The experience modification factor has been used as a qualifier for the construction industry to do business for decades. It can effectively cripple a company's ability to generate revenue. If a construction company's experience mod is not below 1.00, or sometimes below .90 or even lower, it cannot land new contracts. What's worse is that there are factors beyond the employer's control that can increase the mod. For example, recent changes in the split point have caused some employer's experience mod to skyrocket, even though their claims severity and frequency were unchanged. "It seems like every day we get a call from construction companies, elevator companies, or air conditioning and heating companies, who don't know about the split point change and are left wondering why their renewal mod is going up to the point that it will prevent them from bidding on projects" said Mr. Feuer. "Furthermore, one large claim can have an adverse effect on three future experience modifications. It hardly seems fair that a single workers compensation claim should prevent a company from doing business."
Another thing that most employers don't realize is that their experience mod is likely inflated. "We successfully knock down a mod and recover workers compensation refunds on 90% of the accounts we review," according to Mr. Feuer, "This figure is even higher for construction-related companies who need this service the most" For more information on experience modification optimization and obtaining workers compensation refunds, visit http://www.apexservices.com/ or contact Simon Feuer by phone at 516-791-3400 or by email at simon(at)apexservices(dot)com.